A facebook friend recently posted this list of amazing libraries around the world, and the Beinecke Rare Book and Manuscript Library's photo drew me in immediately.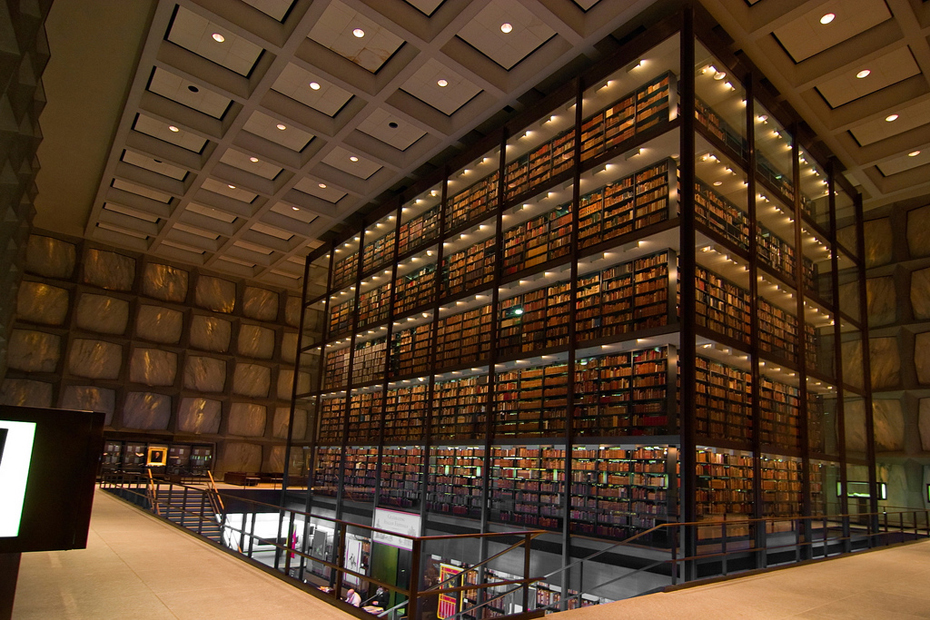 Although it looks like a sci-fi cube of shelves with nothing to keep you from falling into the pit below, this is actually a glass-enclosed structure created specifically to keep the old books and manuscripts at a certain temperature. I love the contract of the books with the gray cubes on the far wall - and apparently this was the intention, according to Beinecke's site:
Beinecke is a box within a box. The inner glass-walled book tower is different from, but as crisply detailed as, the surrounding stone enclosure. Their hardness invites visitors to imagine, by contrast, the soft leather and paper of the books sealed away but in full view.
I don't know when I will next be visting Yale - not that I ever have - but I want to go there, now. It's home to one of the 48 existing Gutenberg Bibles and it has a collection called the Mellon Collection of Aalchemy and the Occult. Rare, leather-bound books? Yes, please. Unfortunately (or fortunately, for the books) the stacks are closed to visitors. I'd still be more than happy to stare up at this tower of history and knowledge.
   Beinecke on the left, with the Law School in the distance.